See on Scoop.it – DrillCenter eMagazine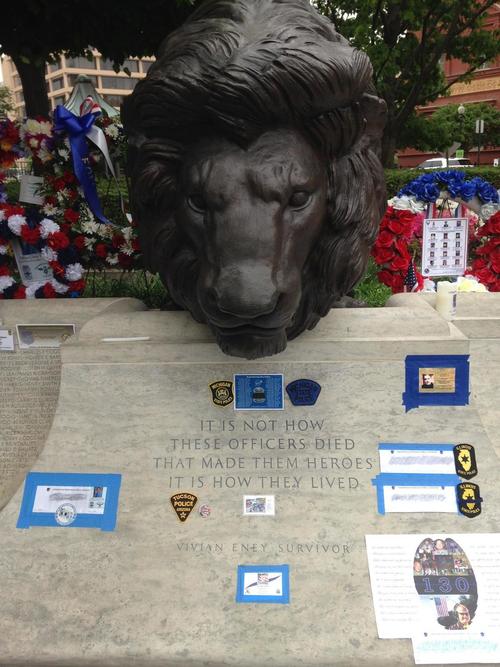 EDMOND — Amidst the unavoidable hustle and bustle that is Washington, D.C., members of the Edmond Police Department's Honor Guard remember why they are there — to honor the memory of fellow officers who died while on duty.
In 1962, President John F. Kennedy signed a proclamation that designated May 15 as Peace Officers Memorial Day and the week in which that date falls as Police Week.
Earlier this week, tens of thousands of law enforcement officers from across the world were in Washington, D.C., to participate in planned events honoring those who have made the ultimate sacrifice.
On May 12, Brentwood (N.H.) Police Patrolman Stephen Arkell, 48, a 12-year veteran, was shot and killed after responding to a domestic dispute, according to the Officer Down Memorial Page. He is survived by his wife and two daughters.
On May 11, Killeen (Texas) Police Detective Chuck Dinwiddie, an 18-year veteran, succumbed to a gunshot wound sustained two days earlier while conducting a SWAT operation at an apartment complex.
Earlier in the month, departments in Tennessee, Mississippi and Georgia suffered losses. So far this year, 42 officers have been killed in the line of duty across the country; 16 died due to gunfire.
National Police Week events include a Memorial Service on Thursday, one in a series of events that include a candlelight vigil, sponsored by the National Law Enforcement Officers Memorial Fund, and seminars sponsored by Concerns of Police Survivors.
Thanks to generous citizens, Edmond Police Department Honor Guard members Sgt. Scott Fees, Capt. Bob Pratt, Detective Jason Stearns, Officer James Hamm, Officer Bervis Littles, Officer Milo Box and Officer Jason Rigsby have been in Washington for National Police Week.
Honor Guard members not able to attend for reasons including staffing needs are: Members Sgt. Tony Hill, Officer Paul Sinclair, Officer Christy Sarkey, Sgt. C.J. Wise, Detective Jimmy Gwartney, Detective Mike Chesley, Officer Jeff Morefield, Officer Joseph Stoy, Officer Michael King, Officer Patricia Demoss and Officer Tim Harwell.
Hamm said several Honor Guard members, including himself, had never been to the nation's capital before. They arrived Sunday and have visited sites including the U.S. Capitol, the White House, Arlington National Cemetery, the just reopened Washington Monument, the Smithsonian, the United States Holocaust Museum and the National Archives, home of the Declaration of Independence.
At Arlington National Cemetery, Hamm said, he saw The Changing of the Guard ceremony and he found the graves of service members who served with his father during the Korean War. The candlelight vigil is meaningful in that it helps members of police officer families keep memories of their loved ones alive, Hamm said.
Hamm said the Edmond officers have been exchanging police department patches and coins with other officers. Curious youngsters come up and ask who you are, Hamm said.
At the National Archives gift shop, Littles saw a youngster holding a law enforcement-themed board game and asked him if he wanted to be a police officer. When the young man said he did, Littles introduced himself to him and his mother as an Edmond police officer and gave the boy an Edmond Police patch. Other youth came over as well.
Littles said it has been great seeing officers from across the world, other members of the "thin blue line," a colloquial term for police officers. Littles said the hustle and bustle of Washington, D.C., makes him appreciate Edmond even more.
Hamm said the Edmond officers were expected to return to Edmond on Thursday night. Hamm said words cannot fully express the depth of their appreciation for what the citizens did to help them go on the trip. – See more at: http://www.edmondsun.com/local/x1667053338/Honor-Guard-members-visit-nation-s-Capital#sthash.WZzLsBki.dpuf
See on www.edmondsun.com