See on Scoop.it – DrillCenter eMagazine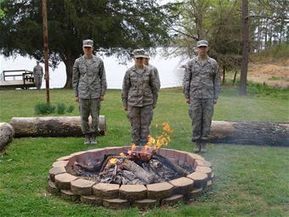 5/13/2014 – ARNOLD AIR FORCE BASE, TENN. — On April 19, Arnold Engineering Development Complex's (AEDC) Honor Guard had the privilege of retiring more than 30 U.S. flags from service.
Staff Sgt. Thomas Starling stated that though most people may not be aware of it, retiring unserviceable flags from service is one of the Honor Guard's duties.
"It's not too often you see the Arnold Air Force Base Honor Guard performing details on base, other than the posting of colors at base ceremonies," he said.
Starling, a Non-Commissioned Officer in Charge of AEDC's Honor Guard, explained that the flags were destroyed by fire in a dignified manner following proper protocol.
"It's an honor to be part of a ceremony that shows both respect and gratitude toward the emblem of our nation, and all those who have served to defend Old Glory," Starling said.
He explained that this large number of flags included several 12- by 18-foot flags that have flown outside of the Administration and Engineering (A&E) Building on base as well as unserviceable flags from outside agencies and community members and from collection boxes placed in the Arnold Village and the A&E Building.
See on www.arnold.af.mil