See on Scoop.it – DrillCenter eMagazine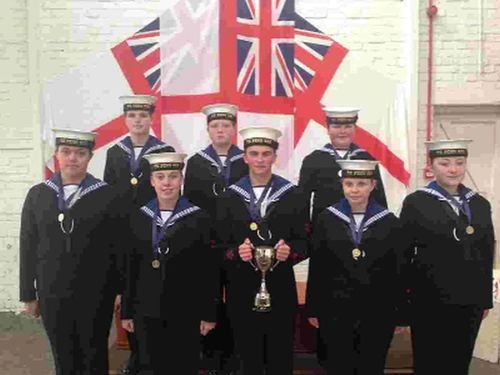 SEA CADETS from Portland marched their way to success in a national competition.
The continuity display put on by the Portland Sea Cadets saw them win the National Drill Competition at HMS Raleigh in Plymouth.
The ten-minute drill routine was performed to various pieces of music without verbal orders and from memory.
The eight cadets, aged between 12 and 17, marched to the likes of Stars and Stripes Forever, an orchestral cover of Call Me Maybe by Carly Rae Jepsen and The Can Can before a rousing finale of Rule Britannia.
They had originally entered the first round of the competition at RNAS Yeovilton in February and progressed through to the area level competition, also held at HMS Raleigh.
The team ended up representing the whole of the South West in the national stage of the competition and put in an impressive display to claim the title ahead of rivals from the southern, London, eastern, northern, north west and Northern Ireland areas.
They were trained by APO (SCC) Rhys Tanner, 19, and 18-year-old APO (SCC) Thomas Louch, who both also composed the winning routine.
Rhys thanked the Portland Free Mason Lodge for allowing the drill team to practice in its hall at weekends, with the hall offering the same dimensions as a drill square, and for the assistance provided by Vic Pomery of the Lodge committee.
He said: "I'm so proud of what the cadets have achieved.
"They've managed to learn a complex routine from memory with over 200 orders – demonstrating an immaculate drill that could give the Navy a run for their money."
Rhys added: "We definitely couldn't have done this without the kind help of Vic Pomeroy and the Portland Free Masons who allowed us to use their facilities for training."
Ordinary Cadet Madelaine Louch, 14, who was a member of the drill team, said "I can't believe we did it – all those weekends of training really paid off."
She added: "It makes the achievement even better when you can share it with your friends."
The Portland Sea Cadets have been entering the competition for nearly 50 years and the success marks their best ever result.
It also adds to a list of recent wins following the victory at the National Band Contest last year.
As a result of their success the Portland Sea Cadets have been asked to perform their winning routine in London's Trafalgar Square for the National Trafalgar Day Parade in October.
See on www.dorsetecho.co.uk