See on Scoop.it – DrillCenter eMagazine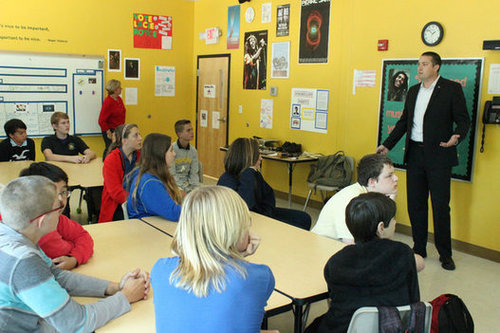 LAKEWOOD RANCH — Eighth-graders at Imagine School at Lakewood Ranch gave Benjamin Bell something special Monday.
They offered up their rapt attention.
Bell, a former honor guard at the Tomb of the Unknowns at Arlington National Cemetery, talked to students about his experience guarding the Tomb, which symbolizes all of America's war dead "known but to God."
The 6-foot-4 Bell, who guarded the Tomb for four years as part of the 3rd Infantry Regiment — The Old Guard — said the legendary attention of guards to their uniform and personal appearance reflects fitting respect for those at rest at Arlington.
It's an art form and an obsession to show thanks for the defense of American freedoms, he said.
Bell, 33, served on active duty from 1999 to 2004, and is now a nurse for the Department of Veterans Affairs in the Tampa Bay area.
Imagine School history and civics teacher Roger Meadows requested a speaker from the Society of the Honor Guard because his eighth-grade class is preparing to visit the Tomb of the Unknowns and other historic shrines in the Washington, D.C., area.
Betsy Hall, Imagine's media specialist, said she has great respect for the honor guards.
Read more here: http://www.bradenton.com/2014/04/29/5126899/tomb-of-the-unknowns-former-old.html?sp=/99/179/186/188/#storylink=cpy
See on www.bradenton.com