See on Scoop.it – DrillCenter eMagazine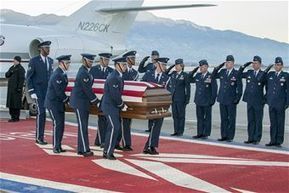 by Michael Golembesky
21st Space Wing Public Affairs staff writer
4/23/2014 – PETERSON AIR FORCE BASE, Colo. — Posting of the colors is a time-honored military tradition used to mark and designate an official event or ceremony, and the High Frontier Honor Guard ensures it is done correctly and with professionalism.
At full staffing, the honor guard consists of about 15 members. These Airmen typically operate in four- or five-man teams at different ceremonies, events and special occasions requiring their unique skills. Honor guard teams can extend to more than 20 members depending on the type of services required.
"I have been a part of the honor guard for just over a year now. Prior to that I was with the honor guard at Manas Air Base in Kyrgyzstan. This is a privileged position to have," said Staff Sgt. Darrell Coleman, 21st Force Support Squadron honor guard NCO in charge.
The honor guard is typically a four-month rotation for selected active-duty Airmen from military installations around the Pikes Peak Region, including Cheyenne Mountain Air Force Station, the U.S. Air Force Academy and Schriever Air Force Base.
"Unit leadership identifies those candidates who are best suited for an opportunity to try out for the honor guard. We select the elite during a two-week training period," said Coleman.
The honor guard plays a vital role in honoring the past, present and future of the Air Force's history and tradition. Because the honor guard participates in many events off base and in the community, these Airmen are representing the Air Force and are required to maintain professionalism at all times while performing their duties.
"The most memorable event that I have had the honor to take part in while serving with the honor guard was for the burial ceremony for Capt. Lyon," said Coleman. Lyon, assigned to the 21st Logistics Readiness Squadron, was from Sandpoint, Idaho, and was killed Dec. 27, 2013 in Afghanistan from wounds sustained by an improvised explosive device. He was interred Jan. 8 at the U.S. Air Force Academy.
Some events are in celebration; others are meant to honor those who have passed or fallen. Many former honor guard members share a sense of pride and camaraderie with this small community, cherishing personal experiences while performing their duties.
"It was very emotional; I had never seen so many people in blue come out to pay their respects and honor in such a way. People from all five bases in the area — it says a lot about our community. It was very overwhelming and at the same time was very rewarding to be a part of," said Coleman.
Airmen interested in joining the honor guard should first contact their leadership using their chain of command before contacting the High Frontier Honor Guard directly. Only your leadership can recommend you for the prestigious temporary-duty assignment.
For information about the High Frontier Honor Guard and how to request their service, go to http://www.21fss.com/about/honor-guard/.
See on www.peterson.af.mil