See on Scoop.it – DrillCenter eMagazine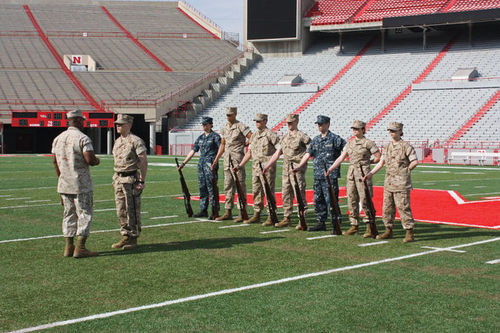 The Cyclone Drill Team came home proud after competing in the Great Plains Drill Competition this weekend. Overall, they took second place in the competition.
According to the event website, "the Great Plains Competition is a day of friendly competition amongst midshipmen from universities across the Great Plains region."
From Iowa State, 19 Navy ROTC marine and navy option midshipmen competed against three other universities in nine different events.
The Cyclone Drill Team was in Nebraska from April 18-19, and the team competed against the University of Minnesota, Kansas University and the host, the University of Nebraska-Lincoln.
"We represented Iowa State superbly," said Staff Sgt. Christopher Harrison of naval science and the adviser to the Cyclone Drill Team.
Events consisted of the overall drill competition, consisting of an inspection, platoon drill, squad drill and color guard, a shooting competition and seven endurance competitions.
In the inspection portion Iowa State placed third, they also placed second in the platoon drill, third in color guard and placed first in squad drill, for an overall second place in the drill competition.
For the second portion of the competition, the shooting competition, the team placed third.
Although Iowa State doesn't have a shooting range for the team to practice on, the Cyclone Drill Team participated in the event despite not having the resources.
"I knew we were at a disadvantage, but we were all having a good time and they all deserved to have that experience, no matter if we came away with a win or not," said Genevieve Halvorsen, senior in culinary science.
The team also placed second in the overall endurance portion. Individual endurance challenges were scored for awards, too. In the flexed-arm hang/pull-ups, Iowa State placed first, placed third in log sit-ups, second in the stretcher relay, first in the dizzy izzy, fourth in tug of war, second in boots and utes relay and second in the 500-yard swim.
"We didn't come away with as many trophies as I would have liked, but at the end of the day, Iowa State made some phenomenal impressions," Halvorsen said.
According to Halvorsen, every single member of the drill team was cheering each other on during the competition, no matter how well they were performing, and said that this showed how much the members care about and support each other.
"I couldn't be more proud of all the hard work that the Cyclone Drill Team has put in this semester, so it's all worth it," Halvorsen said.
For Harrison, he said that the drill team met and exceeded all of his expectations in the competition.
"[At the competition], we could not have shown a stronger command presence than we did through professionalism, military bearing and morale," Harrison said.
For next year as advisers, Halvorsen and Harrison said they plan to prepare more ahead of time and hopefully attend more competitions to give the members more experience.
See on www.iowastatedaily.com