See on Scoop.it – DrillCenter eMagazine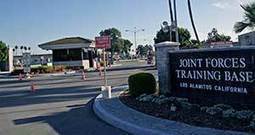 The Golden Bear West Coast (GBWC) National Drill Meet is a drill competition that is scheduled to take place on Saturday, April 26, 2014 at the Los Alamitos Joint Forces Training Base located at 11200 Lexington Dr. in Los Alamitos.
Check-in will be located at the front gate and the public are welcome.
The drill meet will begin at 0800 on the Airfield. The Award Ceremony will take place between 1600-1800 also on the flightline.
This GBWC National Drill Meet was founded in April 2000 and has grown to be one of the largest National Drill Meets of the West Coast in the United States. The drill meet is comprised of four schools from Guam and Saipan as well as 12 schools from the Western states outside of California. The rest of the schools are from the state of California making a whopping total of 62 schools.
The drill competition portion of the day will involve individual cadet, two-man, four-man, armed team, and unarmed team competitions.
In the armed category, schools compete with demilitarized rifles to perform routines that consist of marching, spinning, and tossing with sharpness and precision.
The unarmed category consists of creating beats with the hands and feet. These beats must be done with uniformity to create a champion.
The color guard category is among the most stressful and demanding category of all. A four-man team consists of an American Flag bearer, state flag bearer, and two guards with demilitarized M1 Garand rifles. This ceremonial performance requires patience, sharpness, and perfectionism.
The armed and unarmed categories will be completed with a full, four-man, two-man, or individual teams. The competition will also evaluate drills and military bearing.
The Saxon Battalion was founded at North Torrance High School in 1997. Our mission is "To Motivate Young People to Be Better Citizens." We strive for leadership excellence and have proven ourselves by earning the Honor Unit with Distinction title since 2000.
We hope to see you at the Golden Bear West Coast National Drill Meet! If you have any questions or concerns do not hesitate to contact CSM Raul T. Duran at 909-455-5156.
Our drill meet is open to the public.
Valid Photo ID is required to enter the base.
See on www.oc-breeze.com