See on Scoop.it – DrillCenter eMagazine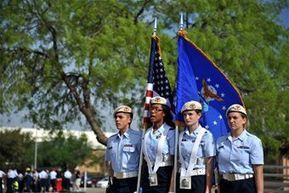 4/17/2014 – SAN ANGELO, Texas — Angelo State University's Air Force ROTC Detachment 847 hosted its annual Junior ROTC Drill Meet allowing high school students to show their military bearing here April 12.
Six high schools participated in the drill meet including Samuel Clemens, Cleveland, Del Rio, Central, Burkburnett and Lakeview High School. Each school's team participated in several events in various categories. Some of the categories included unarmed and armed competition, saber regulation, and color guard.
"The competition was insightful and remarkable; it showed what anyone can accomplish if they work hard at it," said Staff Sgt. Ryan E. Mitchell, 17th Force Support Squadron Airman Leadership School instructor and drill meet judge. "Every high school brought their skills and challenged each other. This made for a good show."
Goodfellow Air Force Base students and permanent party, who have experience with drill, judged the meet using a point deduction system.
"As a former junior ROTC cadet I had the privilege of being a judge nine years after graduating high school and joining the Air Force," said Staff Sgt. Sandra N. Centeno, 316th Training Squadron instructor and drill meet judge. "The competition was exciting and inspiring. The junior ROTC cadets worked so hard preparing for drill and upholding a positive image of military standards at such a young age and I applaud their instructors."
The drill meet not only gives the competitors an opportunity to pay their respects to their country, but spectators had the pleasure of seeing young individuals execute military bearing and show their skills on the drill pad.
"I think every military member should have a chance to see what some high schools and colleges are doing to prepare our young civilians to become military members and overall good citizens," added Mitchell. "It would give everyone a different perspective about why we do our job every day, and the overall importance of doing it well … we need to be the example for our younger generations."
The ASU Air Force ROTC program is always looking for assistance in judging; anyone in the military with drill experience is welcome.
See on www.goodfellow.af.mil