See on Scoop.it – DrillCenter eMagazine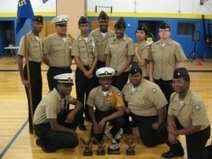 Inspection Team, 1st place; Unarmed Regulation Drill Team, 2nd place; Color Guard Team, 3rd place; Overall Competition, 2nd place
The Christiana High School (CHS) Naval JROTC Drill and Color Guard teams finished its competition year with great success. At the State JROTC Drill Championship in Dover on April 5, the teams' excellent performances resulted in four trophies. Seventeen JROTC units from all branches of services are invited to vie for state honors, though not all chose to attend this year's competition.
The Inspection Team, commanded by Cadet/Lieutenant Viam Chatt, had to stand for a close-up inspection of their uniform and had to field questions from the inspectors about the military chain of command, current events, and patriotic themes. The Inspection Team won the honor as the best in the state, bringing home the first place trophy.
A standardized drill routine is provided and each team performs the same maneuvers on the drill deck and is graded on how well they carry out the routine. The team commander has a great deal of responsibility in leading his or her platoon and memorizing between 50 and 65 commands in sequence. The Unarmed Regulation Drill Team led by Cadet/Lieutenant Commander Sirus Woodard took second place honors.
The Color Guard Team, also commanded by Cadet/Lieutenant Viam Chatt, placed third. The unit's color guard also provides color guard services for home football games and selective events in the community.
The final computations placed Christiana High School's JROTC in second place overall in the state for the second consecutive year. Fourteen young men and women dedicated themselves to practicing several times a week under the guidance of SGT MAJ Gary Arnold, one of the Naval Science Instructors at CHS, in order to prepare for the five drill meet season this year. They placed second overall in several of their meets this year.
See on www.christinak12.org