See on Scoop.it – DrillCenter eMagazine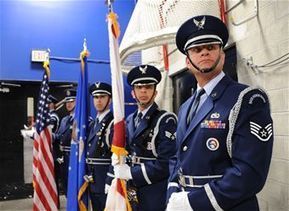 "On behalf of the president of the United States, the United States Air Force, and a grateful nation, please accept this flag as a symbol of our appreciation for your loved one's honorable and faithful service."

That was the powerful message from TSgt. Matthew Swindlehurst, as he addressed the family of a deceased Army Air Corps member during a recent funeral service.
The Westover Honor Guard consists of 20 members who volunteer their time to be part of this prestigious group. They cover 90,000 square miles and average more than 500 funerals annually.
The honor guard forms part of a large network of teams who are responsible for their respective bases. The U.S. Air Force Honor Guard team, based in the nation's capital, is often seen at much larger public events, ceremonies and funerals.
The Air Force Honor Guard originated in 1948 when Headquarters Command directed the creation of an elite ceremonial unit that was activated and charged with maintaining an Air Force ceremonial capability in the National Capital Region.
The Honor Guard officially became a separate squadron in 1972. Both nationally and locally, what makes these Airmen exceptional is that they are still required to complete all of their duties for their primary jobs. They also have to complete at least two weeks of in-house training until they're approved to perform at ceremonies.
This might seem like a lot of work for something that appears as simple as folding flags and marching, but the responsibilities go above and beyond those military spectacles.
"I joined (the Honor Guard) after my grandfather passed away," said TSgt. Swindlehurst. "When I attended his funeral I was horrified to see his funeral services mishandled. They had to refold his flag multiple times. When I witnessed that, I knew I never wanted anyone else to experience that."
See on www.westover.afrc.af.mil