See on Scoop.it – DrillCenter eMagazine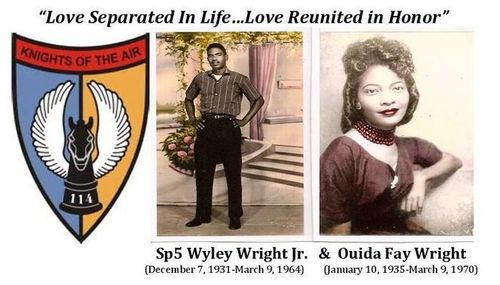 Knight of the Air Sp5 Wyley Wright & Wife Ouida F. Wright Honored at Arlington.
Sp5 Wyley Wright Jr. served the United States as a military "lifer" and was a few years away from his dream of building a home for his family in Jacksonville, Florida and opening up his aviation repair company, when he died after completing his regular missions with honor, just two weeks before his scheduled return home. The Wright Siblings believe their father has earned a place of honor and will exhume him from Mt. Olive Cemetery one of the segregated cemeteries of North Jacksonville that was not kept up as the City of Jacksonville had promised over the years.
Although Green Acres of Columbus, Georgia is a well-kept perpetual cemetery, the siblings concluded that their parents, who shared a deep love for each other, should be buried in honor together. They have themed the occasion "Love Separated in Life…Love Reunited in Honor." The Wright siblings are fulfilling the basic Judeo-Christian principle, one of the Ten Commandments, "Honor Thy Father and Thy Mother."
See on www.international.to